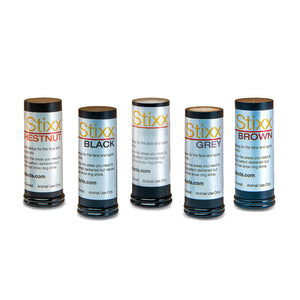 MP Mini-Stixx High Definition Makeup
Regular price $25.00 Sale
NOW AVAILABLE IN Brown, Chestnut, Grey and White!! Perfect for small touch ups as well!
MP Mini-Stixx High-Definition Face Makeup!!
In an easy to use no-mess twist top dispenser, a makeup like NO OTHER!!!
No need for gloves, twist the dispenser to release a small amount of HD Makeup - gently wipe on the area requiring colouring, use a soft sponge to gently blend in.
An amazing face makeup that creates a soft natural black look but still has excellent colour coverage - especially suited for hunter classes where no gloss is needed.
Use the MP Diamond Gel or Top Gloss range for that added show ring shine!!
Good for small touch ups and small scars also.
NOW AVAILABLE IN BROWN, CHESTNUT, GREY AND WHITE!!  Perfect for those small touch up areas!