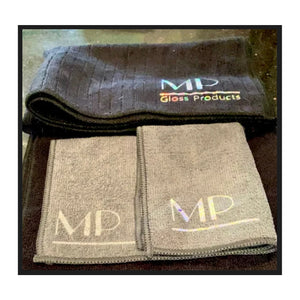 MP Microfiber Face Cloths & Towelle
Regular price $10.00 Sale
Cleaning With Microfiber Towels
Microfiber can be used for a variety of cleaning tasks. Microfiber towels and cleaning tools can be used wet or dry to clean any surfaces. Here are a few ideas on how to use your microfiber towels:
Dry-Dusting: Microfiber's static charge makes it perfect for collecting and trapping dust from any surface. Microfiber also won't leave streaks or track dust around. Take a dry microfiber towel and wipe down your horse — they'll be dust-free and sparkling in no time. Combine with our MP Diamond Dazzle Coat Shine and they'll be "Shining Like A Diamond" ;)
Disinfecting: Microfiber is ideal for cleaning areas that need to stay clean and bacteria-free. With microfiber's ability to trap bacteria, it can help you eliminate germs and keep your gear and makeup cloths sanitary. Clean these surfaces frequently with microfiber, and make sure to launder your microfiber towels after each use to avoid cross-contamination.
Scrubbing: The tiny fibers on microfiber towels are perfect for removing dirt and debris from any surface, prefect for cleaning and polishing your saddle and gear and also to buff and polish your horses coat when using our MP Gloss Products!
You can wipe up most messes without even wetting your towel. If you're dealing with a particularly stubborn mess, wet your microfiber slightly for optimal scrubbing power.
Polishing: With microfiber towels, your leather work and gear will be sparkling and streak-free. Since microfiber attracts and traps dust and other particles, it won't leave any streaks of dirt or moisture behind. Use a dry microfiber towel and rub your surface until it's clean combining with our MP Soap and Leather Care range
Absorbing: Microfiber towels are perfect to have around in case of a spill, since they're highly absorbent and can soak up liquids quickly. Stash some microfiber towels in your TACKBOX and float and you'll be ready if a spill disaster strikes!