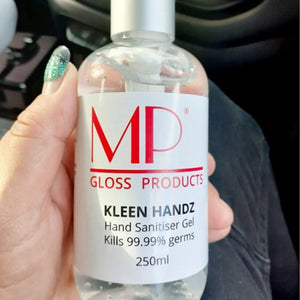 MP Kleen Handz
Regular price $13.00 Sale
MP Kleen Handz is a clear gel hand sanitiser. This product will kill 99.99% germs without water and leaves hands feeling lightly refreshed. No need to rinse off. Suitable for all skin types.
This product has an alcohol content of 70%.
Apply a generous amount to the palm. Spread and rub over back of hands and fingers. Allow hands to air dry.
Alcohol Denat (70%), Aqua, Glycerin, Acrylates/C10-30 Alkyl Acrylate Crosspolymer, Phenoxyethanol, Ethylhexylglycerin,Triethanolamine,Citrus Medica Lemonin
N.B. This product can only be sent via road mail delivery and is not eligible for express post delivery options. Your order may be delayed if you have included additional products.
PLEASE ADD A NOTE TO YOUR ORDER IF YOU REQUIRE EXPRESS DELIVERY FOR ADDITIONAL PRODUCTS ON THIS ORDER. (Excluding WA residents)