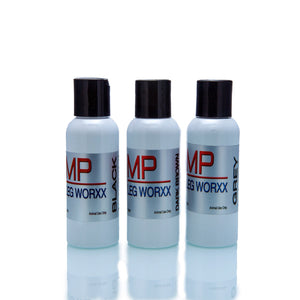 MP Leg Worxx
Regular price £17.00 Sale
No mess, no wastage. Leg Makeup in a handy Flip Top Dispenser.
Available in Chestnut, Dark Brown, Black and our new Light Grey.

How to choose a colour:
Chestnut is a true red chestnut colour best suitable for use on light to red chestnuts to match scarring or to enhance points on legs

Dark Brown is best suited to red- dark livery chestnuts to enhance or where Darkening of leg points is required.

Black - best used on dark/black greys, dark brown with black points, bays, blacks etc

Light grey - best used on white - silver grey coloured horses where a more subtle grey colour is required to enhance points.
Apply sparingly with a damp MP SPONGE - a little goes a long way. Wear gloves 
Used to highlight and enhance, exceptional colour coverage over any colour hair.

Can be used on the face for a more matte finish for the hunter ring.  Team the product up with MP Diamond Gel or MP 'Top 'Gloss to finish the look and add that show ring shine.
100ml bottle comes with a Flip top lid.

For External Animal Use Only.